How To Access NFT Gated DreamHome Club & Partner Store
Updated: Nov 4, 2022
TSA Incubator is very excited about the upcoming soft-opening party of DreamHome Club on Oct 27, located inside Digital One Asset Building:

https://www.voxels.com/play?coords=E@1169E,794N


For Comunity Partners, please fill out form:
https://docs.google.com/forms/d/e/1FAIpQLScwp0GTtw1o7-OkNsdrIOABCU0MW03T5Nyj58Bg1mUkzq311Q/viewform
This soft opening party is NFT gated with Green Bike NFT.
If you already joined the bike teams and received a bike with the colour other than green. You can go to Digital One Parcel to sign the guestbook.
Later, TSA Incubator will airdrop the green bike to your wallet, which you can then use it as the key to access DreamHome Club and other special events!
Sign guestbook: https://www.voxels.com/play?coords=E@1169E,794N
If you have not have a chance to join the bike team, green bike NFTs are also open for auction on Opensea: https://opensea.io/assets/matic/0xd0e6b8d92132a2ff447376cbbcf389fa543a8354/13
Green bike gated Penguin Saviour Hunter Game #HalloweenEditions https://www.teaswap.live/post/penguinsaviourhuntergame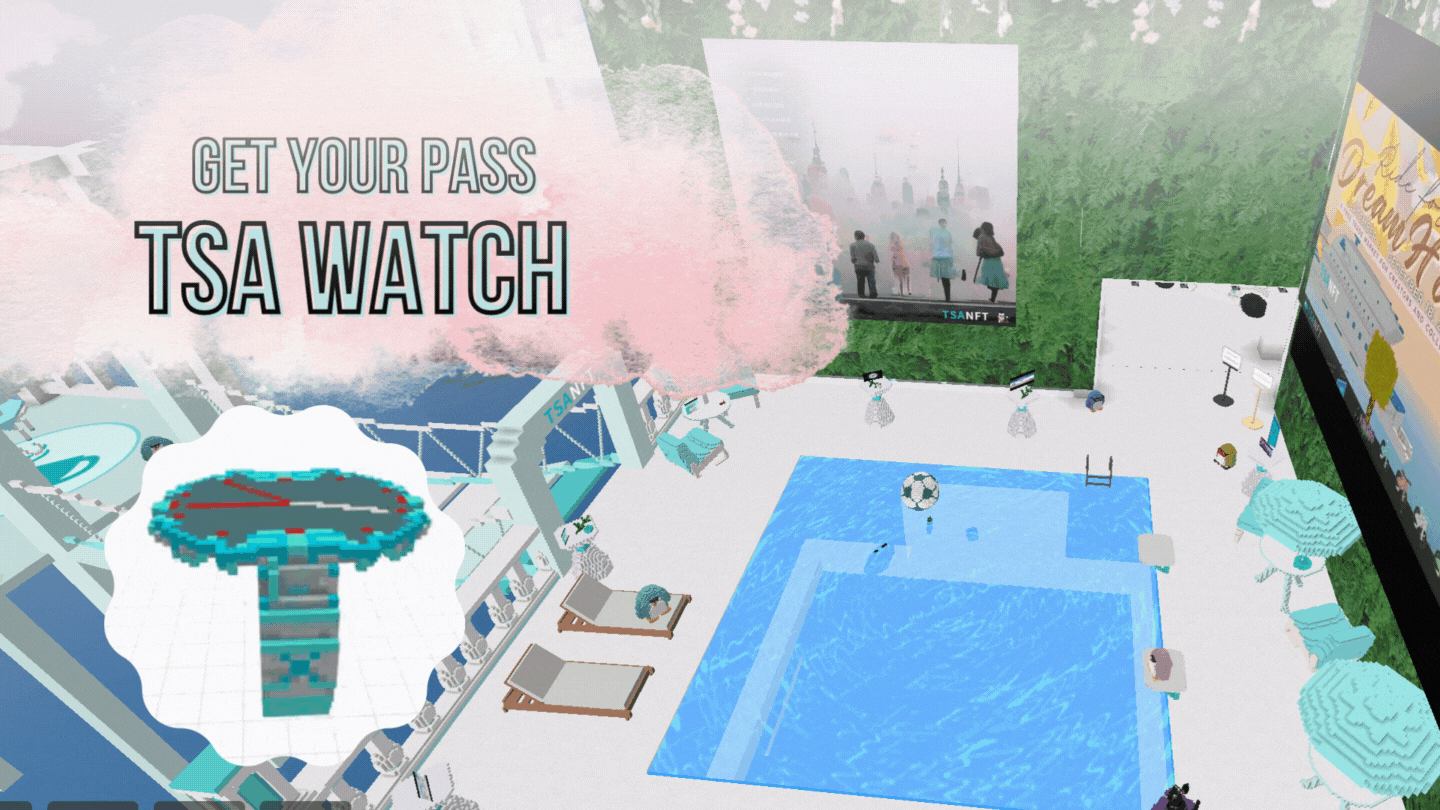 DreamHome Club
DreamHome Club offers many aspects of entertainment, including gallery, swimming pool, and a special sampling studio. This exclusive club is NFT gated by "TSA Watch"
As a TSA Watch holder, you can access to the building, and replay unreleased track from Vessy Mink, view and admire Special paintings curated by @___Philosopher_
Get ur pass TSA Watch (Designed by XTincT): https://sbee.link/jt8hcbxyvp
Visit: https://www.voxels.com/play?coords=E@1169E,794N
TSA Gift Shop
TSA Gift Shop offers Metaverse shopping experience. Now you can take a stroll along the Rhine in France & #TSA Broadway, and be surrounded by the sweet aroma of Lavender bundle here.
TSA Gift Shop is NFT gated by "Lavender Bundle"
Get ur pass at #TSA Gift Shop: https://sbee.link/cdgkm7p8ty
Visit: https://www.voxels.com/play?coords=W@5908W,1687N
About TSA Incubator
Follow us on Twitter, Discord and Telegram!
Be one the first to know about our exclusive NFT drops, special events, airdrops, promotions and the latest news. Join us!
What is TSA NFT?
TSANFT Incubator is a NFT educational platform powered by DeFi solutions and cryptocurrencies, a bridge between Web 2.0 and Web 3.0 built on Ethereum network. Polygon and Binance Smart Chain.
TSANFT Incubator is also a one hub for creators & influencers, offers a suite of Web3tools for creators to use their tokens for "rewards, airdrops, crowdfunding, and exchange social tokens as well as NFTs".
It currently has 5 spaces: TSA Incubator, NFT Marketplace, TSA Collections, NFT Finance and TSA MetaPlay.
TSAMetaPlay, bridges the gap between investment opportunities in the #DeFi world and #Virtual world and brings people together to learn, meet, trade and earn NFTs in an immersive virtual world from anywhere. We allow collectors to maximize value of their NFT collections by combining NFTs and DeFi into one and allowing NFT collectors to yield farm and stake. TSAMetaPlay GameFi Franchise will be launching on Blockchain and Metaverse including Voxels, Sandbox, Virbela, Dvision World, and more.
Contact: support@tsanft.io
Media: Yahoo Finance | Bloomberg Nov. | GlobeAndMail | Nasdaq | The Wall Street Journal |
Follow Us: https://linktr.ee/teaswap
Website: https://www.teaswap.art
Twitter: https://twitter.com/ArtTeaswap
Telegram: https://t.me/icashrewards123
Medium: https://teaswap-art.medium.com/
Discord: https://discord.gg/49xUD5NCGD
Youtube: https://www.youtube.com/channel/UCRQvhqvPo6kVZzLHtZvYIrQ
TikTok: https://vm.tiktok.com/ZMeKnGjQk/
Clubhouse: https://www.clubhouse.com/club/tsa-nft-incubator
Connect.Club: Join Pitch Club
Linktree: https://linktr.ee/teaswap