The Guide to Penguin Saviour Hunter Game
Updated: Oct 31, 2022
Join the first Meta game Penguin Saviour Hunter Game
Get your Web3SocialKey to participate!
Join Whitelist: https://heymint.xyz/web3socialkey
| Guide to "Penguin Saviour hunter game" (Halloween Edition)
Special event for "Penguin saviour hunter game" will be held on Oct.31 Halloween , Black Friday, Christmas Eve, New Year's Day, and more
AS a Web3 Social Key holder, you get access to Penguin Island on Voxels to find your NFT Token number matched penguin eggs.
You can find those eggs through out the entire Penguin Island and our community partners' parcel on Voxels: https://www.voxels.com/play?coords=E@1175E,791N
If you are parcel owners on Voxels and interested in joining the penguin saviour hunter game, sign up here: https://docs.google.com/forms/d/e/1FAIpQLSfcHMGekVA9vSVenJ6QS1f06JxXPa7EzpxCNAjj_droZaSEmA/viewform
Once you find the eggs, make sure you womp & sign the guestbook (using the same wallet that holds TSAWeb3 Music NFT )
Story about Emperor Penguin:
https://www.biologicaldiversity.org/species/birds/emperor-penguin/natural-history.html#:~:text=MIGRATION%3A%20Emperor%20penguins%20make%20yearly,of%20the%20summer%20feeding%20there
Reward:
1. Breeding 100 DAYS (Special Rare eggs)
If you find Emperor penguins' egg, you will receive an Emperor penguins TSA Magic Box for breeding.
During the 100 days of breeding, you can stake the magic box for fun. Afterwards, you will receive one free penguin PFP.
2. Normal eggs
If you find normal type of eggs, you will receive one penguin wearable as an airdrop to your wallet!
Check out some similar penguin PFP: https://www.teaswap.live/penguinpunks
Check out some similar penguin wearables:
About TSAWeb3 Dictionary 100:
Web3 Dictionary Album 100 is designed to provide very basic, simple, clear and easy to understand introductory explanations of new terms and technology surrounding the so called "Web3" as well as the " Metaverse". These include things like blockchain, bitcoin, decentralized finance, NFTs, and more.The Album is specifically for newcomers and anyone curious about these developments. Each track is 88 editions, total is 8800 editions.The #Web3Dictionary100 is filled with Web3 perks available upon minting.
​
Music by TSAWeb3 Dictionary Album 100 © 2022 Digital One Asset Corp. & Vessy Mink. Minted and marketed by TSANFT Incubator, a division of Digital One Asset Corp. Singer/Songwriter: Vessy Mink
If you hold TSAWeb3 Dictionary Album NFT, you will have the chance to get Web3 Social Key.
Digital One Exhibition Hall:
First FloorPress Release Room:
https://www.cryptovoxels.com/play?coords=W@1189E,793N
Second Floor Exhibition Hall:
https://www.voxels.com/play?coords=SE@1186E,795N,3.5U
Third Floor Featured Artist:
https://www.voxels.com/play?coords=SW@1193E,800N,7U
Fourth Floor TSA Training Center:
https://www.voxels.com/play?coords=SW@1193E,801N,10.5F
Fifth Floor: https://www.voxels.com/play?coords=SW@1193E,800N,14F


You can preview some of the albums here: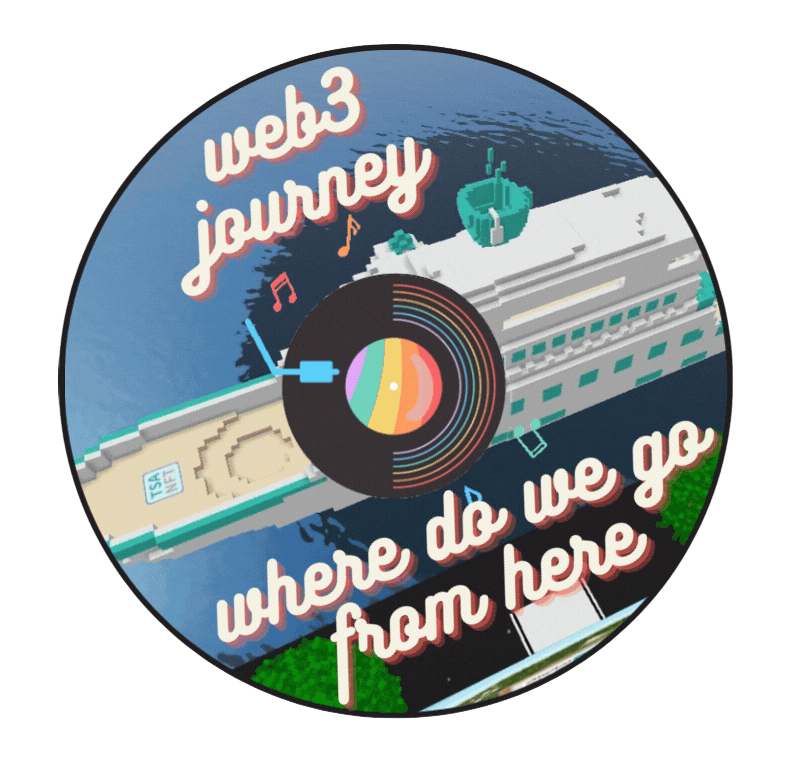 Follow us on Twitter, Discord and Telegram!
Be one the first to know about our exclusive NFT drops, special events, airdrops, promotions and the latest news. Join us!
What is TSA NFT?
TSANFT Incubator is a NFT educational platform powered by DeFi solutions and cryptocurrencies, a bridge between Web 2.0 and Web 3.0. is one of the most powerful NFT investments and trading platforms built on Binance Smart Chain, Polygon and Ethereum network powered by governance token TSA Magic Box NFT and rewards token $TSA. We allow collectors to maximize value of their NFT collections by combining NFTs and DeFi into one and allowing NFT collectors to yield farm and stake.
It currently has 5 spaces: TSA Incubator, NFT Marketplace, TSA Collections, NFT Finance and TSA MetaPlay.
TSAMetaPlay, bridges the gap between investment opportunities in the #DeFi world and #Virtual world and brings people together to learn, meet, trade and earn NFTs in an immersive virtual world from anywhere. TSAMetaPlay GameFi Franchise will be launching on Blockchain and Metaverse including Voxels, Sandbox, Virbela, Dvision World, Connect.Club and more.
Contact: support@tsanft.io
Media: Yahoo Finance | Bloomberg Nov. | GlobeAndMail | Nasdaq | The Wall Street Journal |
Follow Us: https://linktr.ee/teaswap
Website: https://www.teaswap.art
Twitter: https://twitter.com/ArtTeaswap
Telegram: https://t.me/icashrewards123
Medium: https://teaswap-art.medium.com/
Discord: https://discord.gg/49xUD5NCGD
Youtube: https://www.youtube.com/channel/UCRQvhqvPo6kVZzLHtZvYIrQ
Tiktok: https://vm.tiktok.com/ZMeKnGjQk/
Clubhouse: https://www.clubhouse.com/club/tsa-nft-incubator
Linktree: https://linktr.ee/teaswap